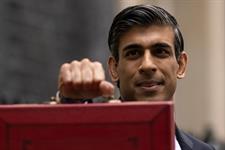 Rishi Sunak, Chancellor of the Exchequer, today unveiled his fall budget in the House of Commons.
Sunak has come under pressure to help people meet the cost of living as he announces plans that he hopes will move the economy beyond the pandemic.
Here are some of the main points from his statement that affect charities:
As part of the leveling to the top, the Chancellor announced more than £ 2.6bn for the UK Shared Prosperity Fund during the spending review period, which he said would focus on aid for people to find jobs and 'move on in life' across the UK.

£ 560million will be allocated to fund youth services in England over the next three years, enough to fund 300 youth clubs.
The first round of the UK-wide Upgrading Fund has provided £ 1.7 billion of local investments in local areas, including the redevelopment of Inverness Castle in Scotland.

21 projects will benefit from the £ 150million Community Ownership Fund, which will help communities across the UK protect and manage their assets, such as pubs or post offices.
The Chancellor confirmed that the UK Shared Prosperity Fund will at least match the size of EU funds in all countries each year. He also announced £ 11bn in overseas development assistance and an additional £ 458m in asylum and refugee assistance to be provided by 2024-25.
The recovery loan program has been extended until the end of June next year, although there is no mention of the Community Renewal Fund.
Corporate rates will be cut by 50%, Sunak said, alongside new tax breaks for cultural venues, museums and galleries.
Other announcements that could impact charities and their service users include billions in spending on health and social care, a reduction in the universal credit cut rate of eight percent, and an increase in the living wage. national at £ 9.50 an hour from the start of April next year.
Samantha Mercadante, policy officer at the National Council of Voluntary Organizations, said the Twitter that the organization welcomed the commitments made in the budget.
"The NCVO welcomes the new spending commitments in sport, culture and public services and we are delighted to see that the Chancellor has listened to charities in recognizing the need to strengthen funding for local governments and provide support. modifications to universal credit, "said Mercadante.
"However, today's announcements will not be enough to help charities and communities recover from the pandemic and build a stronger society.
"In the upcoming White Paper on Upgrading, we want to see investments in social infrastructure, the creation of a community wealth fund, and the reform of existing funds designed to help communities take it to the next level."
Full coverage of the industry's reaction to the fall budget to follow.