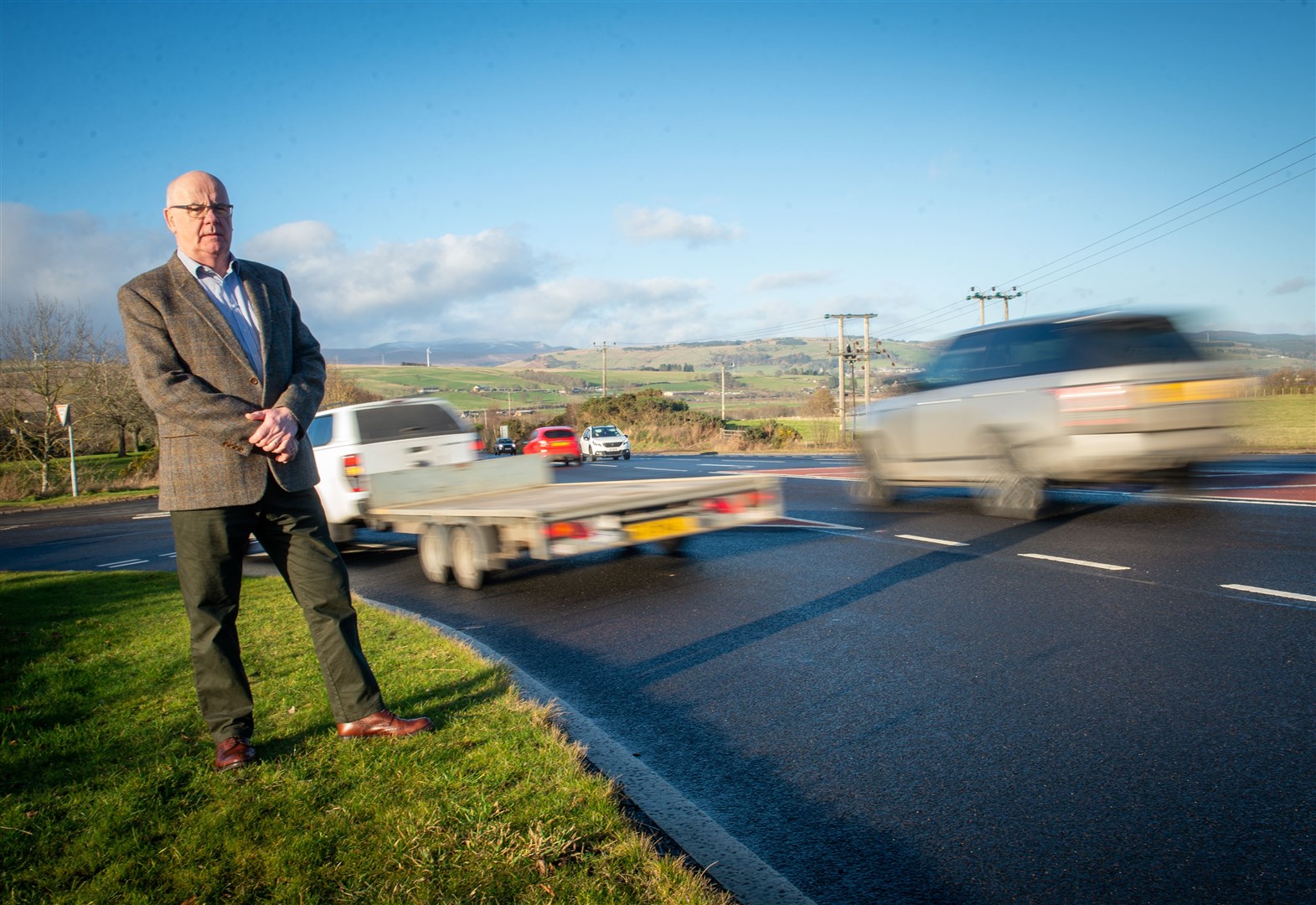 HOME BUILDING is set to be halted in a Ross-shire village until road safety measures are introduced at an entrance junction which has become an accident blackspot, a local councilor has said.
Cllr Alister Mackinnon made the appeal to Highland Council planners who are soon deciding whether a 28-home development by Tulloch Homes on the Schoolhouse Belt site in Conon Bridge, and another 16 next to the former Drouthy Duck pub nearby, should get the green light.
His concern was echoed by the Conon Bridge Community Council to the Highland Council.
And the issue of road safety was brought back to the fore last week following a new accident involving two vehicles.
Cllr Mackinnon says the junction between the A835 Tore to Maryburgh road and the B9163 bend to Conon has already seen fatalities and serious accidents as well as 'almost daily' incidents.
"I'm not ready to have more deaths there," he said.
He wants the 60mph limit reduced to 40mph at the junction and streetlights erected to illuminate the junction at night.
He added: "During lockdown they have been working with islands and new markings but the problem is speed.
"Trucks and other vehicles roll down the hill and are confronted by a left-turning vehicle. Too often they pull right into the path of traffic going up the hill.
Apparently an on-ramp to Conon is not possible due to a gas installation, he said. The councilor added: 'Conon Bridge is a very nice place to live because of its connectivity, but more houses means more traffic and an increased risk of accidents.
"I don't want this to become another Munlochy Junction," he said, referring to the infamous right-hand bend in the A9 dual carriageway on the Black Isle.
"Some residents of Conon take long detours to avoid using the A835 junction as it does not appear safe."
There are also often delays at the junction during school rush hours from 8:30 a.m. to 9 a.m., and again at 3:30 p.m., which adds to the mix, and he thinks a longer ramp north towards the Maryburgh roundabout would help alleviate this, although its priority is a lower speed limit and nighttime streetlights.
Fiona MacKintosh, chair of the Conon Bridge Community Council, said: 'The junction was discussed at the last meeting and we are against any further development here until the junction is secure.
"It has long been a concern of the community council."
Pedestrians and cyclists can sometimes struggle to negotiate the steep downhill road, locals say.
The two major property developments being considered for Conon Bridge follow a trend for the village which has seen steady growth and benefits from a rail link to Inverness, making it popular with commuters.
An 18-year-old has been charged with traffic offenses following a crash between two cars on the A835 near Conon at around 5.50pm last Thursday. The road was closed to allow the recovery of cars.
---
Do you want to react to this article ? If yes, click here to submit your thoughts and they may be published in print.
---