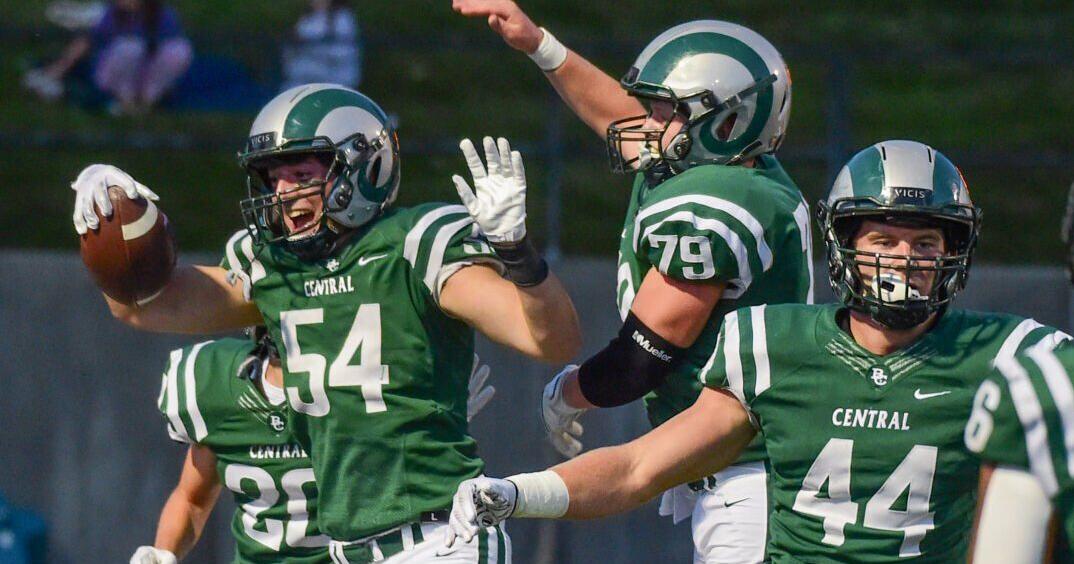 406mtsports.com

BOZEMAN — With the scent of the October playoffs in the semi-bracing air of fall, this is getting real as the high school football regular season enters its final two weekends.
After a relatively uneventful week for the 406mtsports.com High School Football Rankings – save for another Saturday of 6-man carnage – major showdowns are on the immediate horizon as the teams battle for playoff position. playoffs.
The top five spots remain unchanged after Week 7, but some shuffling is looming after Friday in Montana's four biggest classes.
Meanwhile, although No. 1 Big Sandy (7-0) and No. 2 Broadview-Lavina (7-0) stayed the course in 6-Man, the next three teams fell as Bridger, Chester -Joplin-Inverness and Power -Dutton-Brady suffered setbacks with No.9 Denton-Geyser-Stanford-Geraldine.
New No. 3 Custer-Hysham-Melstone (6-1) has now won six in a row since his season-opening 49-48 loss to two-time defending state champion Froid-Lake (4-3), who made his presence felt again after a three-fight losing streak (all against ranked enemies).
• Class AA: All five ranked teams served on Friday, and Bozeman (5-2) makes his presence felt after five straight triumphs following losses to No. 1 Helena Capital (28-21) and No. 3 Missoula Sentinel (29-7) . ).
Next class AA match of the week: Sentinel (6-1) tries to erase the sting from their other game against a school Helena by moving to face Capital (7-0) at Vigilante Stadium. Honorable mention: In the first seemingly even grudge game between the schools, upstart No. 5 Bozeman Gallatin (6-1) takes on Bozeman at Van Winkle Stadium.
• Class A: With four shots and a bye for No. 4 Polson, the top five spots remained locked. No. 1 Hamilton (7-0) won 42-7, No. 2 Lewistown (7-0) beat 55-18, No. 1. No. 3 Billings Central (7-0) batted 35 -0 and No. 5 Columbia Falls won 69-12.
Still on the outside waiting for someone to stumble is Dillon (5-1), who only lost to Hamilton (34-7).
Next class A match of the week: Eastern prominence will be on the line when Lewistown hosts Billings Central on Friday night.
• Class B: The state's most balanced class didn't see much movement other than the fall of No. 4 Jefferson after a 12-0 loss to a formidable Manhattan team. No. 1 Bigfork (6-0), No. 2 Townsend (6-1) and No. 3 Florence-Carlton (6-1) all took care of business.
So is No. 4 Huntley Project (7-0), who is quietly lurking on the east side of the state. Worth noting: the Red Devils own decisive victories over Malta no.5 (21-0) and Glasgow no.7 (42-14) – the only defeats of the two teams.
Next class B match of the week: All eyes will be on the west when Bigfork hosts defending state champion Florence-Carlton.
• 8-Man: As the top four spots continue to be held by undefeated teams, led by Drummond-Philipsburg (7-0), a salvo from the east came from No. 5 Culbertson (6-1), who sent then the No. 1. 5 Fairview 28-8. Keep an eye out for the top No. 8, who is 7-0 despite disbanding his co-op with Alberton.
Next 8-Man game of the week: Northern supremacy will be on the line when the No. 2 Belt (8-0) heads to the Hi-Line to take on the No. 3 Chinook (7-0). The Huskies outscored six opponents 261-48 (one forfeit) and the Sugarbeeters outscored seven opponents 286-136.
• 6-Man: Despite the late momentum of Custer-Hysham-Melstone and No. 6 Roy-Winifred (6-1), it might be prudent to keep an eye on the two-time defending champion and now ranked 10th Froid-Lake, who was all but written off after the first three losses, but has dismantled the mighty Savage and Jordan over the past two weeks.
Next match at 6 of the week: 4 Centerville (5-2) was a surprise, and the Miners will have their job done but on Winifred's red turf when they face the Outlaws.
Class AA
3. Missoula Sentinel (6-1)
5. Bozeman Gallatin (6-1)
Class A
Class B
3. Florence-Carlton (6-1)
4. Draft Huntley (7-0) (+1)
8 men
1. Drummond-Philipsburg (7-0)
6 men
2. Broadview-Lavina (7-0)
3. Custer-Hysham-Melstone (6-1) (+4)
6. Roy Winifred (6-1) (+4)
8. Chester-Joplin-Inverness (5-2) (-4)
9. Power-Dutton-Brady (5-2) (-4)