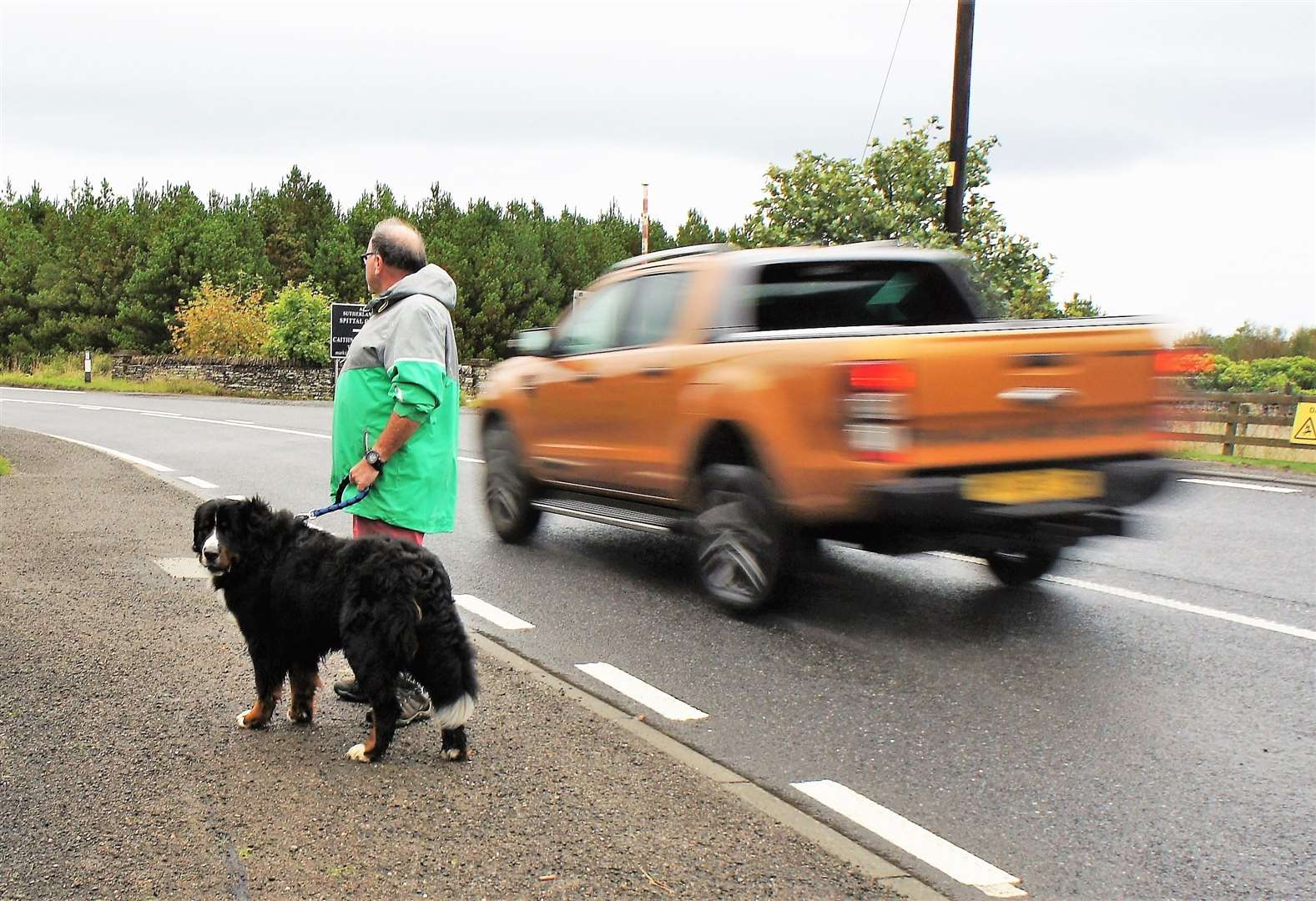 A resident of Spittal is furious after learning that a section of the A9 running through his hamlet is 'not a priority site for further investigation' in relation to the installation of traffic calming measures.
Eddie Rowan spoke about the problem last month saying speeders regularly flout the 50mph restriction on the A9 via Spittal and more needs to be done to slow them down.
"It's an accident waiting," Mr Rowan said. "Bear Scotland having no warning sign for HGVs crossing Spittal is a serious disregard for the safety of residents. There is no sign to inform vehicles that there are two secondary roads linking the 'A9 and a quarry entrance. Bear Scotland puts vehicles speeding through Spittal before the safety of residents or pets.'
Mr Rowan says he often walks his dog along the stretch in the evening and takes 'proactive measures' to protect himself by wearing a high visibility vest and carrying a torch, but it 'doesn't make the slightest difference and they always accelerate by ".
He also shared a picture taken in Achandunie, which is near Alness and which he says is similar in size to Spittal, showing a 40mph restriction in place. "Truck speed is 40mph on A roads in Scotland, except the A9 from Perth to Inverness which is 50mph."
The Threipland Place resident himself has nearly 50 years of heavy-duty driving experience, said many heavy-duty drivers exceed the speed limit on the road which has a blind peak, dangerous bend and a bus stop without warning lights.
"There was never any consultation with the people of Spittal," he wrote in an email to Bear Scotland – the road maintenance and management company responsible for the area in question.
In a letter dated October 19, Bear Scotland road safety manager Richard Perry told Mr Rowan that a review of the A9 via Spittal had not identified it as a "priority site for a further investigation at this time."
He further said: "The signage associated with the 50mph speed limit on the A9 via Spittal has been reviewed by experienced road safety engineers from Bear Scotland who have confirmed that it complies with national regulations. The signage is also regularly inspected and in good condition. Public lighting is also provided, which accentuates the presence of dwellings and pedestrians."
The safety manager said there was no record of any road traffic accidents with bodily injury at the site over the past five years and, in relation to a point raised by Mr Rowan regarding fatalities suspected animals, he told her that "the collection of domestic, agricultural and wildlife animal collision data is not considered when prioritizing crash reduction programs."
The area in question did not meet the requirements for a safety radar, but it was also said that a site selection exercise is currently underway across Scotland and "if this location is identified as a stretch of route that meets the minimum requirements, a camera deployment will be considered".
Mr Perry ended his letter by saying: "The choice of speed and course is solely that of the driver. Unfortunately, some drivers may choose to disregard a clearly and correctly posted speed limit or behave inconsiderately, regardless of the presence of measures to encourage greater compliance."
Mr Rowan called the company's response 'totally unacceptable' and accused Bear Scotland of prioritizing traffic speed over pedestrian safety.
"The people of Spittal will not rest until something is done for our safety. Remember that life cannot be replaced – it is your responsibility, Bear Scotland. We now have the intention to seek legal advice."
---
Do you want to react to this article ? If yes, click here to submit your thoughts and they may be published in print.
---