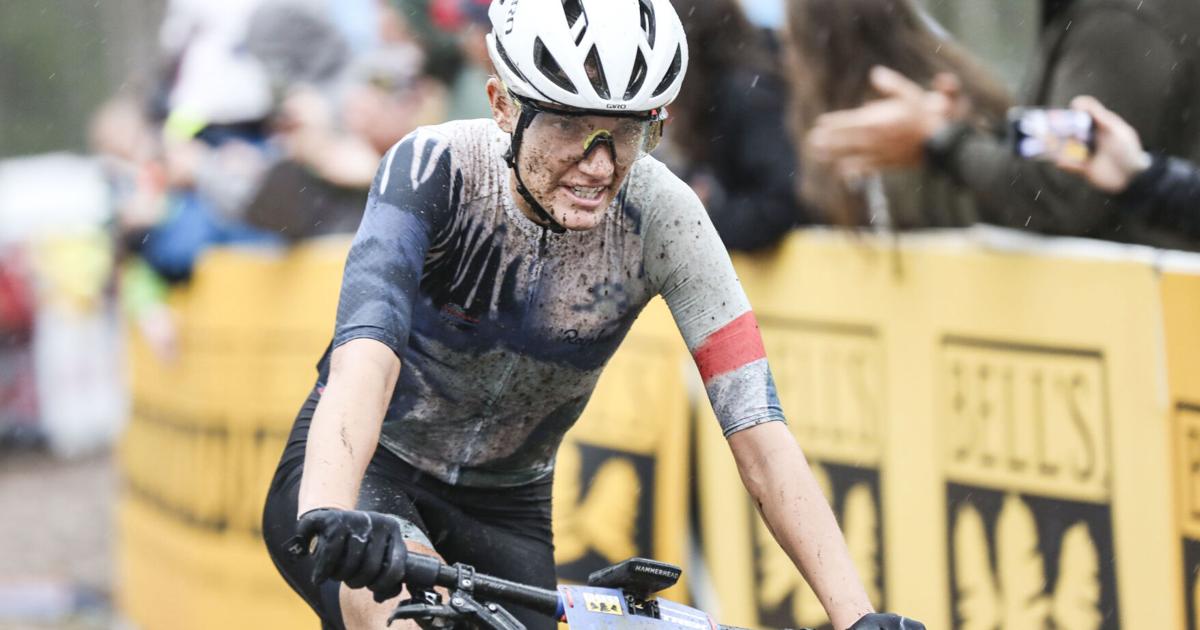 ACME — Alexis Skarda was the opener and took advantage of it.
Three riders left the peloton early in the Women's Iceman Cometh Challenge at the Timber Ridge Resort in Acme, and there were only two left by the very end.
Savilia Blunk, 23, from Inverness, Calif., was in the lead, but on the last corner before the final sprint bridge, she slowed down as she passed a biker from one of the earlier races.
Boulder, Colorado resident Skarda took advantage and was able to pass Blunk and hold her off by a second for the win.
"We were just bar to bar on that last climb and I passed her at the top and then we met a double rider and there was a bit of a delay and she got around me," Blunk said. "It was just a drag race to the finish line, and she had it at the line. But, boy, was it one of the most exciting finishes I've ever had. .
Last year's champion Rose Grant, 40, placed third in her last race before retiring.
"Three of us broke up early rather than having a big enough group of us," Grant said. "So there's really been very little recovery, very little slack."
Grant, a native of Columbia Falls, Montana, has placed in the top three in the three years she has competed in the Iceman, taking second place in 2017.
Skarda didn't think she could make it after Blunk passed her on the final ascent.
"There's one last climb before the finish and basically if you can climb the climb first you're going to win," Skarda said. "And Savilia walked around me on that climb and I was like, 'Damn, I just lost it.'"
Skarda took fourth place last year in his first Iceman.
"I didn't feel like I had the legs last year," Skarda said. "This year, just because the racing season has been longer, I've just been a bit more prepared for this year."
Grand Rapids' Paige Onweller took fourth, with Arizona's Erin Osborne, Grand Rapids' Julie Medema sixth and Williamsburg's Emma Schwab seventh. Jacqueline Larouche of Ann Arbor, Maria Doering of North Carolina and Heather Compton of Grayling round out the top 10.
"It was the three of us for most of the race, Rose, Savilia and me," Skarda said. "It was fun working with them. It was tactical and it was a really good sprint to the finish, which is always exciting.
Skarda said being in the final push was so different from trying to finish far behind the leaders, like his fourth-place finish last year.
"The difference is at the end when you're sprinting up the big punchy climbs, with everyone cheering," she said. "And you have a chance to win. You just go a lot harder. It's almost like your whole body goes numb.
Saturday's races had a combined purse of $71,000. The male and female winners each earned $6,000, second place $5,500 and third place $4,800 in the women's races.
OTHER ICEMAN RESULTS: Don Fedrigon Jr., the first Iceman winner in 1990, won his age group, men 65-69, in 1:53:44. … Marquette's Evan Simula won the Fate Bike Race in 1:53:09, with Traverse City's Allyson Schultz winning the Fate Tire Women's title in 2:08:47. … Harrison Ford of Lake Orion won the Clydesdales Men's 39 & Under title, with Canadian Sean Thibeault taking the group 40-49 and Mark Brown of Plymouth the 50+ category. … The Traverse City riders took the men's singlespeed crowns, with Alex Primeau claiming the 39-and-under division and Steve Andriese the 40+ group.