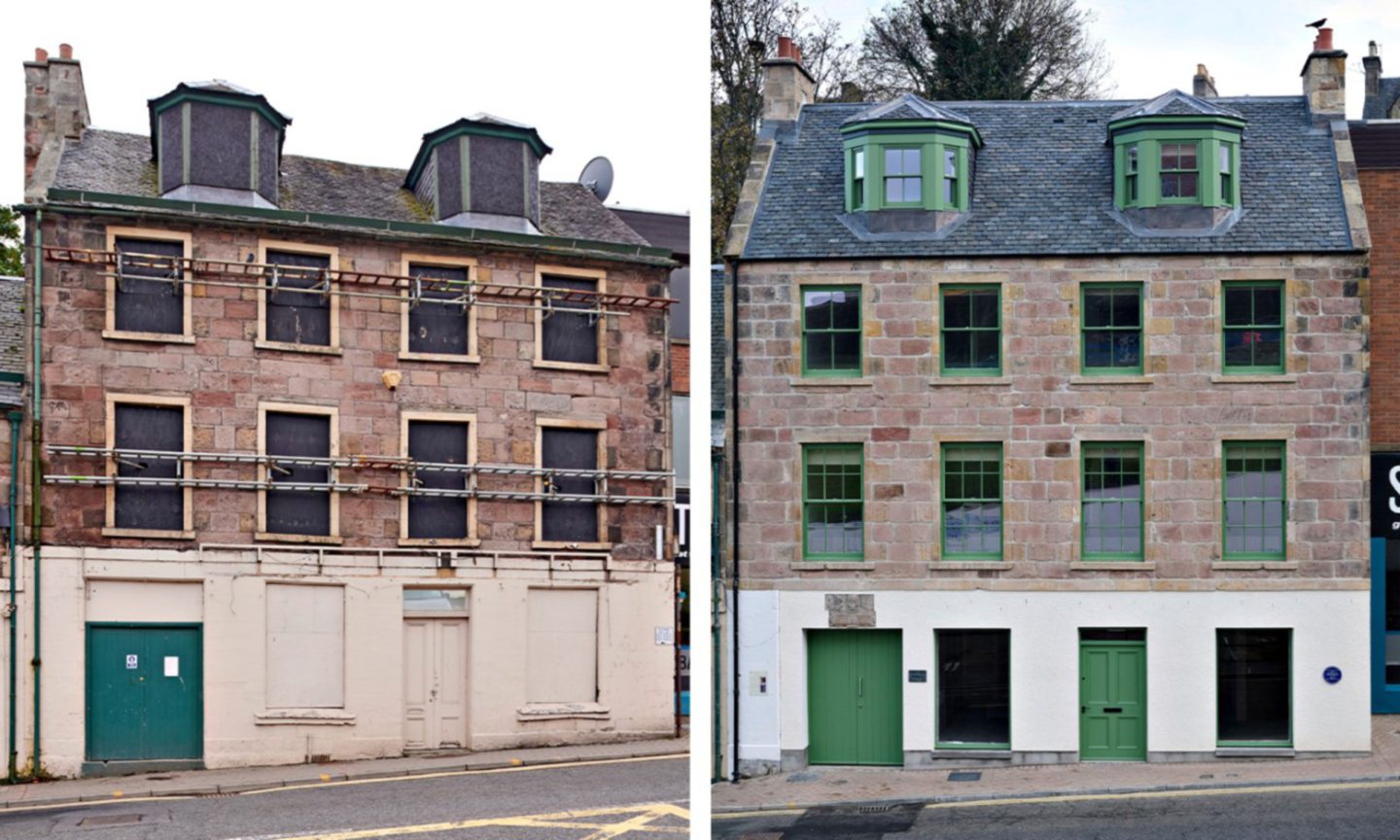 Developer Highland Housing Alliance (HHA) has completed the regeneration of Merchant House on Castle Street, Inverness, creating eight apartments and new retail space in the town.
Part of the 18th century Castle Street frontage, overlooking Inverness Castle, the B-listed building had fallen into disrepair in recent years.
It had become an eyesore for the local community.
The site has been transformed into a mix of one and two bedroom apartments, with a 1,000 square foot commercial unit on the ground floor to be owned and leased by HHA.
Aided by a £1.2m grant supporting the Scottish Government's Partnership for Regeneration, private funding and City Region Deal funding, HHA worked with contractor Compass Building & Construction Services to ensure that most of the original building is retained.
The existing facade of the building has been removed and rebuilt stone by stone to provide a result that reflects the original character of the property, while using existing materials.
A common courtyard has also been revived, creating a private garden for the new tenants.
We have rejuvenated the original features of the building to create a new destination for people.

Gail Matheson, Executive Director, HHA.
Gail Matheson, Managing Director of HHA, said: "The restoration of the iconic Castle Street building marks an important milestone for HHA.
"Not only is this another building we have restored to its former glory, but this is the first time we have secured Regeneration Partnership funding from the Scottish Government.
"Alongside the project partners, we have rejuvenated the building's original features to create a new destination for people, in line with Highland Council's Inverness City Vision roadmap to strengthen the city centre.
"Ensuring there is a strong portfolio of high quality homes in Highland communities is paramount to ensure it (the region) remains an attractive destination for business and the workforce. ."
She added: "We look forward to expanding our portfolio of properties in the North of Scotland, and this will include both private and mid-range rental schemes."
The apartments include seven one-bedroom apartments and one two-bedroom penthouse apartment.
Housing Secretary Shona Robison said: 'It's fantastic to see these homes completed and the restoration of this iconic building in Castle Street.
"I pay tribute to everyone involved for the major work undertaken to achieve this development, while preserving the character and history associated with the building and its location in the city.
"Backed by £1.2 million in funding from the Scottish Government, these apartments will support the local community and make a real and lasting difference to the lives of new residents."
110,000 affordable housing units by 2032
The government has delivered 111,750 affordable homes since 2007, including more than 78,000 for social rent, Ms Robison said.
Holyrood is "meeting our commitment" of 110,000 affordable homes by 2032, of which at least 70% will be for social rent and 10% in remote, rural and island communities, she added.
HHA is a not-for-profit development company that works with a range of private and public sector partners to deliver homes across the Highlands. It also provides a management service to its tenants.
Already subscribed? Login
[HHA restores Inverness building to glory]
[[text]]